Sompohe Norvice Ba
Thirty-one year old Sompohe Norvice Ba is from Ivory Coast, she is one of thousands of Ivorians who escaped civil war and made their way across the border to Liberia. She says, "I will stay here because of peace." This refugee family found solace at Little Wlebo school, which is managed by Bridge Liberia.
In 2011, Ivory Coast descended in to a bloody civil war following an election in 2010 — the first election for ten years. After months of tense negotiations failed, forces loyal to President elect Alassane Ouattra began fighting with ex-President Laurent Gbagbo for control of the country. In March 2011 the UN Refugee Agency reported 450,000 Ivorians had fled the violence with 77,000 of these going to Liberia.
Sompohe was one of them, she crossed the border with six children – only two of which were her own. Her only hope of survival, she crossed the perilous Cavalla River, on the border of Ivory Coast to make her new home in Maryland County, south-east Liberia.
Seven years later, Sompohe runs a cheke and fish stall, serving the traditional Ivorian meal of cassava, fish and a rich sauce. She is no longer in need of her refugee status but has chosen to stay in Liberia for the many benefits it can provide to her family — one of these is a good education. Her children are attending Bridge Liberia Little Wlebo (below) where they are excelling.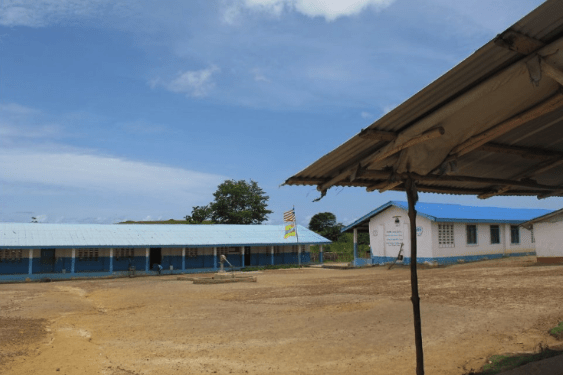 She says: "I'm so happy that I can work and that the government of Liberia is giving my children a good education for free. They will have chances I never thought possible in Ivory Coast. We can dream big thanks to Mama Liberia."
She adds: "'The teachers at school all use teacher computers. It doesn't matter that we are very far from everything, the teachers have good lessons. My children have very good English. Yes, better than me! I'm happy my children are learning so much. I know they will be something when they grow up."
Since 2017, Bridge Liberia has been managing 20 schools in Maryland County, part of the governments flagship education initiative, Partnership Schools for Liberia (now Liberian Education Advancement Program). Bridge schools in south-east Liberia are now providing quality education at no cost to local Liberians and Ivorians natives who have settled there.
Sompohe is one of many people to have fled conflict to keep her family safe; but she is in the minority to have found a home and a high quality free school to offer her children a brighter future.