Liberia National Students Union honors government technical education partner Bridge Liberia
The Liberia National Students Union, the umbrella organization responsible for advocating and protecting the rights of all students in Liberia has honored Bridge Liberia in recognition of its enormous contributions to the education sector.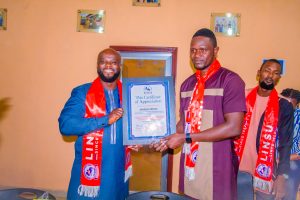 Bridge Liberia is the Liberian Government's technical partner under the Liberia Education Advancement Program (LEAP), which is improving learning gains and transforming the country's primary education sector.
LINSU President Mohammed Ghandi Kamara during the honoring ceremony disclosed how pleased the student group is with the partnership Bridge has with the Government of Liberia through the Ministry of education.
Gandhi mentioned the improvement in learning at government schools under the LEAP Program, is a major milestone that is worth
commending by all well meaning supporters of education.
This milestone achievement, according to the LINSU President, speaks to the transformative works taking place at these government schools under the LEAP program supported by the government & technical
partner; Bridge Liberia. Gandhi further stated that the leadership of the Liberia National Student
Union is currently in the process of rebranding the student group to a more viable organization that will implement its core function of
advocating for the students of Liberia.
According to him, LINSU's recognition of Bridge Liberia for its contribution to the development of students in Liberia should spark the
government's education partner to go beyond its core functions and do more to improve the already challenged education sector.
Bridge Liberia Managing Director receiving the honors thanked LINSU or following the entire LEAP Program and recognizing the work partners like Bridge are doing to support the over 70,000 students at government primary schools.
Gbovadeh Gbilia explained that he is specifically gratified that an organization that is in the business of advocating for students would
recognize the work of education partners that are directly supporting students across the country.